Breathtaking beaches and magnificent buildings that are world-famous like the Opera House – this is Sydney Australia. But not only walking the streets of the city appeals to visitors from all over the world, but also to admire the whole city from above. There are many structures from which one can enjoy a wonderful panoramic view. For example, just a few minutes from the city center is the famous rock. This place on a ledge was created by a governor in honor of a certain woman. Visitors from all over the world can now enjoy the Opera House and the Harbor Bridge in the background from here. On the fireworks shows, this location is also a great place to enjoy them.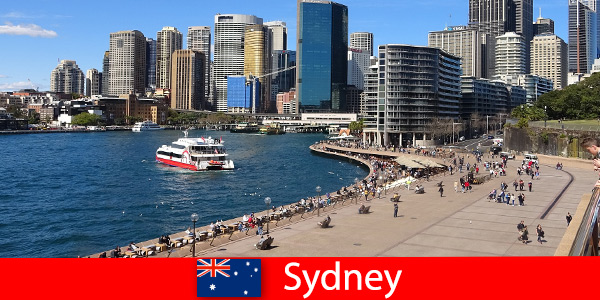 Aim high – a wonderful view of Sydney
A wonderful panoramic view of Sydney is also possible from the Harbor Bridge – from a height of 134 meters – which visitors from all over the world can reach with a climbing guide. For this ascent, you are dressed in a so-called BridgeClimp suit and then climb up the steel arches under the guidance and direction of the climbing guide. The climbing guide is also the guide who gives information about the history. If you don't want to go high, it may be enough to just climb the tower of Fort Denison, the former prison and military fortress. The attraction is part of the Harbor National Park and a very good place to get a wonderful view of Sydney from here. The fort is open to visitors every day. Guided tours are also offered daily. At the same time, there is so much to learn about the city's maritime and colonial history. You can't see the whole city here, but you can see a large part of the harbor. The drive to Fort Denison is also an experience from Circular Quay. Milsons Point, a little north of the Harbor Bridge, also offers a spectacular view. This is a port suburb that offers a spectacular view. This place can be reached by ferry and train. In this place is also the Luna Park, where there is a ferris wheel, from which it is possible to have a wonderful view over the city.
Harbor panorama
Anyone who dares to venture a bit outside the gates of this city in Australia, such as the port suburb of Watson Bay, has found the perfect place from which the port of this beautiful city can be spotted. This is particularly possible from the Hornby Lighthouse, which can be reached by strolling along the coast. From here you can not only enjoy a view of the city's harbor, but also have a view of the city's skyline. Even the drive there can be used for a panoramic view. The trip starts with the ferry from Circular Quay.