Anyone who is already taking a long-distance trip to Malaysia would also like to experience something and not just lie around on the beach. A travel destination in this Asian country would be Penang Island. This is an island. Not only the beaches of the island are fabulous, but also the hinterland, where tourists can distance themselves from the tourist bells and whistles and being looked after by the numerous locals and foreign workers. The island has a national park that has a size of 25 square kilometers. The rainforest is right outside the gates – around an hour – of the lively provincial capital. Hiking trails lead through the jungle of the national park, which hikers can use and get to know the island of Penang in a different way – away from the beach life.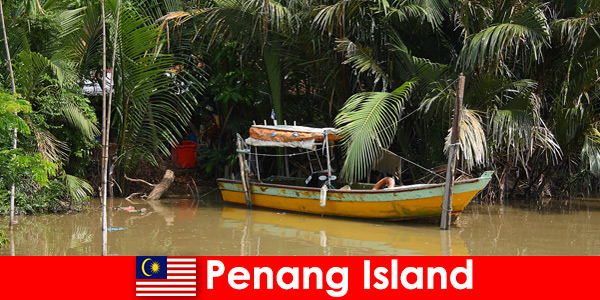 By bus to the national park
Hikers can reach Penang National Park, which is located on the northwest tip of Penang Island, without any problems by bus. These are the rapid bus routes 101 and 102. The costs are also not high. A trip costs the equivalent of one euro, i.e. 4 ringgits. The bus stops right at the entrance to the national park. Alternatively, a taxi can be used. The national park may only be entered if you register. Entry to the park is free. A map with the hiking trails hangs at the entrance – it is best to take a photo so that the path through the jungle does not turn into a wrong path.
Hiking trails through the Penang National Park
Tourists who like to hike have the opportunity to head for two destinations on Penang Island in the national park. These are Turtle Beach and Monkey Beach. Monkey Beach is in the north and Turtle Beach in the west. Right it goes to Monkey Beach and left to Turtle Beach. Apart from the jungle, there is no other connection between the two beaches. The former connection between the two beaches, the Canopy Walk, has not been accessible for a long time. Due to storms it can happen that the paths are blocked from time to time. Monkey Beach and Turtle Beach are then inaccessible for a long time due to fallen trees. This usually takes place on the jungle paths that start behind the short paved paths. On the jungle paths you have to pay attention to where you step. Hikers repeatedly come across small groups of monkeys and monitor lizards on their way through the national park. You are not all alone at Monkey Beach. Because on this beach there is a small research center for biotechnology. But it is the loneliness of these two beaches on the island of Penang, which is why a long-distance trip to Malaysia is worthwhile, even if the journey takes just under 14 hours purely in terms of flight time.