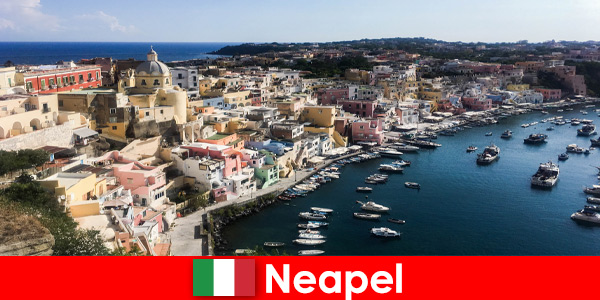 For stays of three to four days, accommodation in the center of the coastal town is recommended. Most of the sights are within easy walking distance from the city centre. Sights such as the aquarium, the botanical garden, the catacombs, around 200 churches, 2 royal palaces, 4 castles and around 30 museums. The city also offers 7 libraries, about 30 museums and 4 art galleries that are worth a visit. Also worth seeing are the numerous squares and fountains. Exploring the historic old town of Naples should definitely be on the activity plan. Imposing buildings and a labyrinth of squares, churches and winding streets create an incomparable flair.
A lot of what the city of Naples has to offer
Strolling through the old town, tourists on holiday discover a unique attitude towards life. There is hustle and bustle everywhere. Frag-rances waft from the windows and clotheslines typical of Italy dangle above the heads of pedestrians. Another action becomes an experience. A visit to at least one of the colorful markets. The offer ranges from local fresh food to the latest fashion and antiques. In a relaxed atmosphere, you can enjoy a typical Italian espresso in one of the cafés. Numerous events take place on the 25,000 square meter square in the center, which give this place an incomparable charm. Also worth seeing on the square are the four impressive buildings. The paintings of famous artists can be viewed extensively in the royal palace.