Foreigners visiting India as individual tourists should definitely not forget to put Chennai on their list of places to visit. The city is known for the colorful temples that can be found throughout the city. Foreigners love to visit these temples.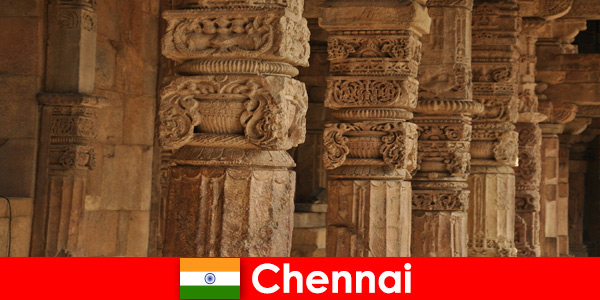 From Shiva to Krishna
One of the colorful temples in Chennau is, for example, the Kapaliswarar temple, dedicated to the god Shiva. This temple is located in Mylapore, a district of Chennai. This Hindu temple was built in the Dravida style, which originated in South India. The center of the temple is the main shrine facing west. A side shrine is dedicated to Shiva's companion. The gopuram in the west serves as the main entrance to the temple. What makes the Kapaliswarar temple one of the colorful temples in the capital of the Indian state of Tamil Nadu are the gopurams, which are richly decorated with colorful stucco figures. This temple probably dates from the 7th century. Foreigners visit this temple not only because of its bright colors. The main reason is that the Hindu deity worshiped here is Shiva, probably the most famous god who is also known among western tourists. Another well-known Hindu god among western tourists is Krishna. In the Vishnuitic Parthasarathy temple in Triplicane, Krishna is depicted as the charioteer of Arjuna. You can already see from the outside how colorful and colorful the Hindus love it and that colors play a very special role in Hinduism. Visiting this temple also means that you not only get a lot of cheerful colors on the outside, but also inside the temple. In addition to these two temples, there are other colorful temples in the capital of the Indian state of Tamil Nadu.
Meaning of color in Hinduism
Not only the Hindu temples in Chennai in India are colorful. The clothing of the Hindus is also very colorful. Colors – which are called varna in Hinduism – all have a meaning. Hindus show which group (caste) of society they belong to by the color of their clothing. But there are also general meanings of color in Hinduism. Red is the color of joy and happiness and white stands for purity. The Hindus associate the color blue with Krishna and Vishnu and yellow is the color that stands for the sun, knowledge and light and green symbolizes death and life at the same time. And after all, purple is considered the color of transmigration of souls in Hinduism. These colors are also reflected in the sacred images of the temples – both inside and outside.