Johor Bahru, the second largest city in Malaysia, has now firmly established itself as a tourist center. Nevertheless, the city is not overcrowded. Inexpensive shopping opportunities, architecture that is well worth seeing and inexpensive, comfortable hotels in the border town attract vacationers like a magnet. Vacationers who want to secure cheap overnight stays should therefore only book their hotel room in the city center.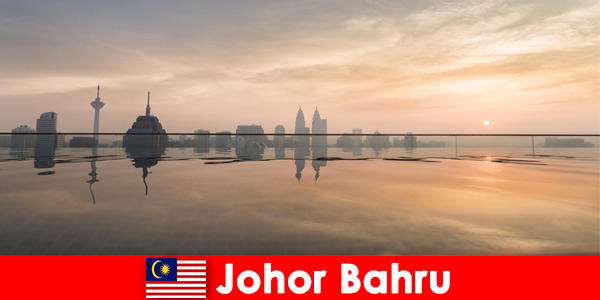 Advantages of hotel bookings in the city center
A relevant advantage for tourists to book a hotel room directly in the city center is the large selection of hotels for every budget. Tourists who are looking for a home for a day or two in Johor Bahru will also receive competent advice if they book a hotel room in the center. The offer ranges from private rooms to family apartments, cozy hotel rooms, cheap backpacker hostels and stylish luxury suites. All accommodations are the perfect starting point to explore the city and its numerous sights on your own. Another advantage is that if the desired hotel room is not available, the staff will recommend a suitable alternative. The city center should therefore always be the first port of call for planned hotel bookings. This also applies to holidaymakers traveling in groups to and through Malaysia.
Unique accommodations and sights
Johor Bahru has so far been spared from mass tourism. The mosque with its impressive architecture, the great palace and the Hindu glass temple can be reached quickly from the hotels in the city center on foot or comfortably by taxi. Recently, new sights were built in the city as tourist magnets. The two theme parks are particularly recommended. Johor Bahru delights tourists and business travelers who make their hotel bookings in the center with an abundance of spacious green areas. The staff in the booking centers know the accommodation very well and advise travelers looking for accommodation in a special environment. The booking can be canceled flexibly at any time if necessary. Credit card charges and fees can be specifically avoided when booking on-site. Another benefit of booking right in Johor Bahru city center is that the tourist contact point will immediately confirm the accommodation reservation. Upon request, guests can receive a wealth of other useful information, for example on public transport, entrance fees to sights and opening times. Here you can buy tickets and admission tickets without long queues and book interesting tours for all interests.
Useful tips from the accommodation service round off the service
So that tourists can fully enjoy their stay in Johor Bahru, guided and individual tours are offered by the accommodation service in the city center. Most hotels and accommodations can also be reached quickly from the city center. The friendly staff also recommend restaurants in Johor Bahru and are happy to help you plan your onward journey in Malaysia.