Located on the River Avon in South West England, Bristol has a rich maritime history. As a former port, a cultural center has emerged in the city center. Harbourside, the M Shed Museum traces the social and industrial heritage of this region of England. Hafenspeicher in the 19th century includes restaurants, shops and cultural facilities such as the contemporary art gallery The Arnolfini.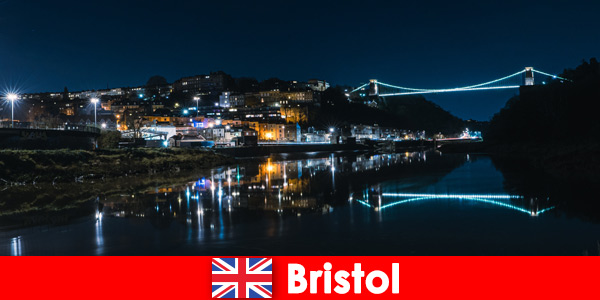 The Story of Bristol
This city in South West England has buildings from almost every era of the past centuries. It lies between green hills near the sea – no wonder that artists and musicians are drawn here. At the beginning of the 1990s, trip hop – also Bristol Sound – was invented here. Famous stars such as Nik Kershaw and Damien Hirst are Bristollians. The street artist Banksy is also well known. His works are highly valued. The city became famous as a creative forge. The famous animation studio Aardman is located in its historic waterfront. Bristolians love their city. They even introduced their own currency, the Bristol Pound, a few years ago. In various selected local shops you can pay with this money, which is worth the British pound. This is how locals support their local economy – and there are many independent small shops, pubs and restaurants in the town.
Bar crawl in Millennium Square
Experience Bristol's legendary pub scene! A pub crawl around the city is a lovely way to spend your evening. As a university town, you can look forward to an extensive pub culture as well as numerous bars and clubs. In the pubs of Millennium Square you can taste some of the famous ciders. Pubs include Apple and Small Bar – popular spots on this square. Live music including jazz and blues can be found at The Old Duke.
Pub crawl through the city's pubs in England
Pubs and bars can be found across the country, but Bristol's pubs can also be justified with a historical-literary interest. The Llandoger Trow has been around since 1664. This quaint half-timbered house is Bristol's oldest pub. The pirate Captain Blackbeard was a regular here. Daniel Defoe is said to have met Alexander Selkirk in this pub. Whose stories inspired Dafoe to "Robinson Crusoe". The pub is said to also serve as a model for Robert Louis Stevenson for "Admiral Benbow", the pub in "Treasure Island". If you want to sip cocktails in an elegant setting, you'll feel at home at Hyde and Co and The Milk Thistle. The entrance to the two so-called "speakeasys" is slightly hidden. In Illusions it becomes magical. The bar was founded by a magician. Packed with illusions and magic tricks, it is something very special. The Coronation Tap, not far from the Suspension Bridge, has a record-breaking selection of ciders. There is live music in many of Bristol's pubs.
Bristol's nightlife
Good live music can be heard almost every night in this city. The nightlife here is very exciting and has to do with the fact that 10% of the approximately 450,000 inhabitants are students. The best-known concert venues are: Motion, Lakota or Cosies, which transforms from a wine bar into a modern club at night. There you forget the time and just enjoy the music and the wonderful drinks.