The Motorwelt site in Munich was opened after 12 years of construction. The adventure world invites automobile fans and tourists to marvel and touch the world's most exclusive and valuable automobile brands.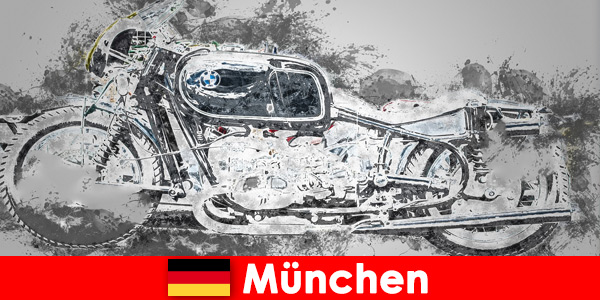 Scene meeting point in Germany for vehicle fans
The approximately 75,000 square kilometer area is a hot spot for automobile enthusiasts in Germany. The heart of this attraction is the 185 meters long, 18 meters high and 90 meters wide historic and largest steel structure hall in Europe. Locomotives used to be repaired in this hall. Today, a constantly changing vehicle exhibition invites tourists from all over the world to marvel and touch more than 25 of the world's most valuable vehicle brands. 120 glazed boxes act as exhibition space for the special bikes and youngtimers, oldtimers and classic vehicles. The parking boxes are freely accessible 24/7 for the owners of the exhibition vehicles. The boxes are surrounded by an abundance of repair shops. Tourists will not miss a single detail thanks to the glazing. The site is accessible to visitors free of charge until 10 p.m. every day.
World brands on display are always a highlight
Brands on display, which not only make the eyes of car fans shine, are top car brands. A special attraction is the signature of one of the legendary boxing legends on the trunk. There are currently more than 25 of the most sought-after vehicle brands around the world to marvel at. Renowned brands have also secured a place in this unique exhibition.
Popular event site in Munich
The Motorwelt area has several event areas. They are suitable for events of all kinds. There are 4 event locations and 22 conference rooms with space and space for events in an automotive ambience. The locations Kohlebunker, Kesselhaus and Zenith are known beyond the borders of Germany and make every celebration and concert an unforgettable event. The steam dome on the site offers space for 2400 event visitors. Exclusive tours are offered for people who want more than just marveling and touching. Parking spaces are available in sufficient numbers. Pure driving fun awaits visitors in the showroom, which can be booked for events with a maximum of 15 participants. A total of two racetracks are available on an area of ​​80 square kilometers. The detailed routes with integrated lane change ensure sizzling excitement for adults and children in the race.
Shopping fans and gastronomy
There are numerous shops around the parking boxes for luxury vehicles. Almost all shops have a connection to automobiles in the broadest sense, for example hat makers who offer products for convertible drivers. A total of seven restaurants take care of the physical well-being of visitors to the Motorwelt. The themed restaurant Motorworld Inn invites visitors on a journey through time. This restaurant is designed in the style of nostalgic workshops. The seating groups are arranged under a lifting platform. A Buick convertible attached to the ceiling acts as an absolute eye-catcher. In most of the restaurants, visitors are served dishes from German and southern cuisine.
Accommodation options
There is also a barrier-free four-star hotel on the site. The guests of this motto hotel in Munich can choose which of the specific rooms they want to stay in. Special rooms even offer a view of the newly purchased vehicle when you fall asleep. A total of 152 rooms are available on 2 floors.