Germany is also becoming increasingly popular as a travel destination among the inhabitants and the imposing city of Cologne, where life is blooming, is no exception. Strangers will especially stumble across the many high-rise buildings in the metropolis, which immediately catch the eye. You can not be overlooked and a well-known sight like the Cologne Cathedral, which rises up, can be found here. The tall buildings and some of the sights make it all the easier to get a very relaxed impression of the city, where the people of Cologne can stop by day in and day out and enjoy the same attractions.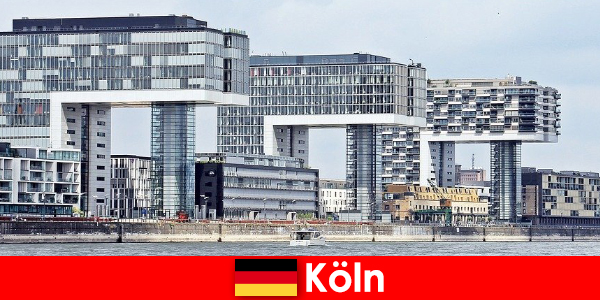 Cologne is always worth a trip, even without buildings!
Even if the lively city of Cologne didn't have any tall buildings, it would be a ni-ce change from their own hometown for strangers and shows what is going on in other parts of Germany. In addition to the many sights, the general attitude towards life in the metropolis is huge. The people are considered friendly and helpful, but above all tolerant and open-hearted. Everyone is welcome here. But since the Cologne Cathedral or the old town also present some tall buildings, the holiday in Germany rounds off perfectly. Some would also perceive the Hohenzollern Bridge as a kind of building structure that runs directly over the Rhine. Here, where all loved ones attach their love locks, a visit, especially for lovers in the city, is simply a must-see of their stay. The cable car would of course be another opportunity to get high and on this occasion also an attractive sight to get an overview of some parts of the city at an impressive height. From the Cologne Zoo to the Cologne Rheinpark, you can discover it locally, which is sure to be a great opportunity for the youngsters.
Foreigners will feel absolutely at home in Cologne
The price-performance ratio for local catering in Cologne is extremely inexpensive, so that self-catering in a café and restaurant is not a problem. The main thing is that there is a little bit of the feeling of experiencing the people of Cologne up close, when they are helpful, honest, open and tolerant at the same time. There is probably no other city in Germany that is as entertaining with the Cologne Carnival as this city. Pure entertainment awaits all travelers in the city, not forgetting that numerous sights await. Some of them go high, as St. Gereon and the Hahnentorburg prove. The Eigelstein Torburg is certainly one of the higher buildings / sights on site. The picturesque city full of attractive starting points naturally proves its beauty and would like to invite you to experience a few breathtaking and unforgettable moments here. Smartphones, cameras and the like should definitely not be forgotten in order to capture these memories on photos.
A suitable holiday destination no longer has to be found if you deal with an imposing city like Cologne, as the city is called by the inhabitants. Here, where there is no lack of entertainment and where the sights await their travelers, there is something for everyone. Whether big or small vacationers – this city knows how to inspire. It makes perfect sense, even as a couple, family or group trip, to look around in peace and quiet, where something is offered for every occasion. In addition to the entertainment, there are also noteworthy sights locally, which even go high and lead to a unique and picturesque result for every photo motif. This city is and remains a must-see point of contact for all travelers who are guaranteed not to forget this stay.