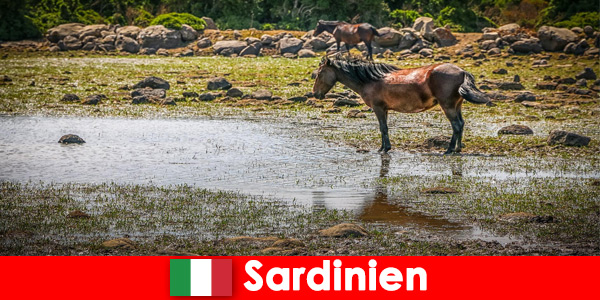 Dolphins are frequently sighted in the Bay of Sardinia Italy. A boat tour offers holidaymakers the opportunity to observe gray herons, mouflons and bottlenose dolphins in their natural habitat in the sea and on the coast. The crystal clear water is also ideal for snorkeling and swimming. The beautiful pink flamingos can be observed in the numerous lagoon lakes along the coast of Italy. Wild horses and pack animals can also be found on the island.
Flora and fauna to discover on the island of Sardinia
Wild nature awaits vacationers in the rocky north of the island of Sardinia in Italy. Everywhere in this stony area with rock massifs up to 1360 meters high, bizarre rock towers, sharp stone needles and round rock outcrops protrude. Tourists' imaginations are stimulated in this environment by countless different shapes. The basic structure of these wild stone gardens is formed by the rocks. The Mediterranean flora thrives on and between them. At high altitude is the habitat of pines and pines, in the middle cork oaks and junipers grow in small forests, groups or as solitaires. Below there is a dense thicket of flowers and bushes for tourists to discover. Red poppies, sage, thyme, heather, myrtle, gorse, lavender, cistus and other magnificently blooming wild flowers are represented. Maccia covers about 70 percent of the total area to avoid dehydration. When exposed to sunlight, they release essential oils into the environment and thereby prevent the soil from drying out. The scent explosion that awaits tourists here is incomparable. Thanks to the harmonious interplay of scents, colors, shapes, flora and stones in this wild nature, the overall picture bears no resemblance to a lunar landscape. The narrow paths that lead tourists through the wild nature invite you to discover this work of art untouched by human hands. The rocks, the sea and the coast also form a fascinating rock garden. Both towns and roads along the coastline are carved out of the granite rocks.