Not only the beaches on the south coast of France near Nice are interesting. The villages and mountains and thus the hinterland of this region in France are also worth exploring. Even a tour by bus or train is worthwhile if you are a tourist on the south-east coast of France for more than a few days. Above all, in the hinterland of the southern French city, Gourdon is enthroned on a rock at an altitude of more than 700 meters and characterizes the Loup valley. This is an incomparable panorama that is offered to tourists who want to see something else besides the beach on the south coast of France. Around the city in southern France, which is also known as La Belle, there are more than 120 villages, some of which embody the original France, so to speak. Because each village is located high above the sea and has its own special charm.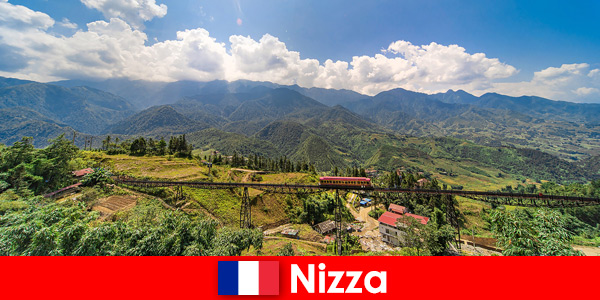 Charming villages
Villages and mountains – that's what defines the hinterland of La Belle. Coaraze is one of the closer villages to the city. The narrow cobblestone streets and the old stone houses are reminiscent of a medieval village, as it used to be in France. The impressive collection of ceramic sundials is located here. There are offers of leather, pewter or wood art on every corner. Between Monaco and Nice is Èze, a picturesque place with rocks that drop steeply into the sea. There are also medieval streets and the cactus garden Jardin d'Èze and numerous art shops. Another place worth mentioning is Gourdon. The place is enthroned on a rock at a height of 760 meters and overlooks the Loup valley. From here you can see 80 kilometers. The there is also called Nid d'Aigle, or eagle's nest. The 13th century Château de Gourdon is also located here. One of the most beautiful places in France can also be easily reached from the French south coast – Saorge. The houses there are built in steps on the slope of the French Maritime Alps and tower over the Roya Valley.
Accessible by public transport
Eze, located on the Moyenne Corniche (the RN7) between Nice and Monaco-Menton, is around 18 kilometers from La Belle. The place is very easy to reach by car – but also by train. The railway line is served several times a day. Gourdon can also be reached by train from the south coast of France. 6 trains run daily between the two places. Saorge is also very easy to reach by public transport. The journey by train takes about 1.5 hours. There are 21 connections per week. Villages and mountains in the south of France are therefore very easy to reach and develop.