Bangalore or Bengaluru, the capital of Karnataka, may be better known as a hub for the information technology sector, but it is also a jewel of a tourist destination in India. The bustling metropolis attracts foreigners above all with its picturesque, lush green spaces, which have earned it the nickname "Garden City". Other things that tempt vacationers to plan a trip to Bangalore include the vibrant nightlife, exquisite dining scene and myriad shopping districts. People who travel to the "Silicon Valley of India" for business or pleasure can visit many places here to have an unforgettable time. Due to its pleasant climate, the city is a popular travel destination all year round.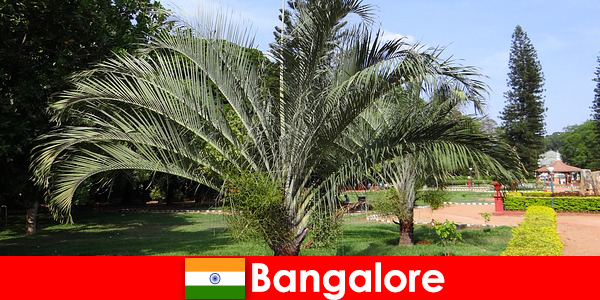 Picturesque parks
Cubbon Park is like a breath of fresh air in the busy city and a treasure trove of biodiversity with around 6000 trees and plants representing nearly 100 species. Lalbagh Botanical Gardens dates back to the 1760s when Hyder Ali, the then ruler of Mysore, initiated the development of 40 hectares of land as a private garden for the royal family. What you see today is the result of the constant expansion and development that Tipu Sultan, the British and other regional rulers have undertaken over the years. On the outskirts of the city is the Bannerghatta National Park, where you can observe the fascinating wildlife of the region up close. Elephants, leopards, sambars, wild boars and sloths are some of the animals you can encounter here.
Imposing monuments
Foreigners planning a trip to India will be amazed by the imposing buildings from different historical epochs when visiting Bengaluru. The Bengaluru Palace, built in the second half of the 19th century, offers an insight into the riches of the past monarchs. The architecture of the building is reminiscent of the castles. In addition, concerts of international heavy metal take place regularly in the large park. Tipu Sultan ruled the Kingdom of Mysore for nearly two decades in the late 18th century, and the sprawling Tipu Sultan Palace served as his summer residence. The structure houses several objects by Tipu Sultan as well as paintings by monarchs. Vidhana Soudha, the seat of the Karnataka government, is a granite wonder that captivates observers because of its size. Although there are several impressive buildings and monuments in the city, Vidhana Soudha is distinguished by its neo-Dravidian architectural style, wide staircase and huge columns. As it is a government building, access to its premises is restricted.
Visit to the Government Museum
The Government Museum, which has been in operation since 1865, is one of the oldest museums in the country. However, it is not only the rich history of this place that draws visitors, but also the impressive collection of archaeological and geological artifacts such as sculptures, coins, inscriptions and jewelry from different historical periods.