The beautiful state of Penang in Malaysia encompasses a long strip of coastline and the island of the same name. This city exudes an exotic charm of a thousand-year-old Asian culture. Vacationers can ride a traditional rickshaw here and admire historic buildings. The city is connected to the mainland by two bridges, so a plane or ferry is not absolutely necessary. Away from the hustle and bustle, the city has magnificent nature experiences to offer, because the tropical region is rich in dreamy and never-ending beaches. Lush forests and picturesque fishing villages – this is Penang Island. Every year, vacationers are overwhelmed by the numerous spices, such as nutmeg, that grow here or by the exotic fruits. There are also sumptuous food stalls and countless restaurants in the region. Even small original shops can be browsed in large numbers. Penang Island – a dream landscape.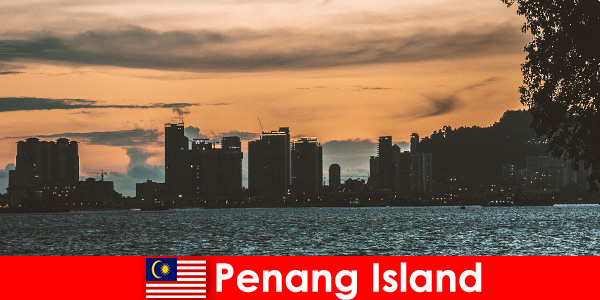 Pure relaxation or activity
Anything is possible in Penang. Thousands of years of Asian history are here in one beautiful city. Various cultural influences ensure an interesting and colorful cityscape. In the midst of the modern city, historic buildings, Chinese shops and traditional rickshaws can be experienced. The palette ranges from traditional to modern. Chic cafés, narrow streets with small buildings from the Rai era, mosques and skyscrapers line up here, as if it were a matter of course. The impressive historical buildings of Khoo Kong Si can also be visited with the numerous detailed wall paintings, the beachfront Weld Quay and the elaborately designed sculptures. The destination may also lead to George Town's oldest Hindu temple. In the city's museum and art gallery, visitors can get a closer look at the different traditions of the many different cultural groups.
After a long tour of discovery, beautiful cafés offer absolute relaxation and sweet temptations to relax. There are numerous beautiful cafes to have a coffee and eat a delicious piece of cake. For visitors with a sweet tooth, the incredibly delicious Coconut Tarts are recommended. These little coconut tarts can be found in almost any candy store or bakery.
The national park or rather the Kek Lok Si Temple
Visitors can reach the small and very beautiful national park by bus from George Town. The drive here takes about an hour. The setting is unique – right by the sea and there is no entry fee. It goes through the jungle, to lakes, beautiful beaches and viewpoints. Boats can be taken to the beaches and back again. The park is open every day and there is a trail map for everyone. One of the largest Buddhist temples is the Kek Lok Si. The majestic complex with pagodas, green areas and prayer halls can be seen from afar. She rises on the slope of a hill. Picturesque Malaysia has such beautiful corners that visitors often come back for a second time. Admission is free for vacationers visiting the temple. Only the small mountain railway costs the equivalent of one euro and leads to a higher level. Kek Lok SI is accessible by public buses. Those who choose Penang Island as a travel destination immerse themselves in a wonderful world that inspires visitors every year with all its facets.