If you are looking for an adventurous foreign vacation with a lot of hustle and bustle and lots of new impressions, you will find it all in the lively streets of Delhi.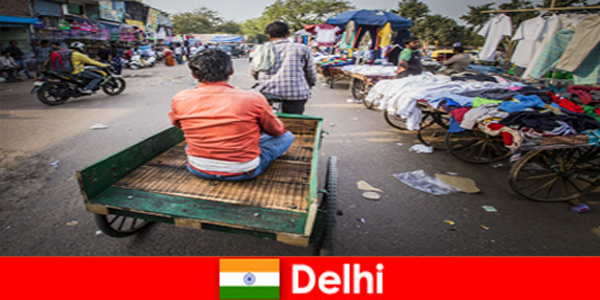 The colorful streets
Although the city is under the Indian government, it is in some ways autonomous and has its own parliament. The metropolis is located in northern India and is home to the name-like Indian capital. Around 1.4 billion people live in India. Almost 19 million of them live in Delhi. Here you will find a world with its very own charm. The country is known for its colorful fashion. As soon as you leave your accommodation, you immerse yourself in lively streets and a colorful sea of ​​people. The underground of the narrow streets is often completely covered by an oriental-beige sand and thus creates an atmosphere like in a thousand and one nights. The lively streets are lined with colorfully decorated houses, small retailers and market stalls with lots of clothes and fresh and juicy fruits. Innumerable, small billboards advertise the retailer inside on the house walls. A visit to these shops is definitely a worthwhile experience. The image of the colorful street is completed by intertwined telephone and electricity cables hanging over the street.
Culinary specialties
Let yourself be carried away in the lively crowd of people, rickshaws and scooters. Feel the warm rays of the sun that come here and there in the streets and create a pleasant climate. With a bit of luck, you can spend your holiday abroad here all year round in warm temperatures of over 20 degrees. Delhi's streets smell of countless spices and delicious foods. Follow the smell that suits you best and enjoy Indian hospitality in a traditional Indian restaurant. Indian cuisine is known all over the world for its distinctive taste. To experience this in the original environment is a very special kind of experience.
Historical buildings and living faith
Delhi is a city with a rich history and a unique culture. You can visit many impressive sights, such as the "Red Fort" palace, which is almost 375 years old. Or the UNSECO world cultural heritage "Humayuns-Mausoleum", a pompous burial place for a historical Indian ruler. Many different faiths find their place in the country. In addition to the majority of Hindu believers, there is also a large proportion of Muslims in India. You can also marvel at the largest mosque in all of India, called "Jama Masjid", in the metropolis. With its red and white towers, it towers over the entire city. If you want your trip to be an extraordinary highlight, simply take part in one of the numerous street festivals. Here you will experience lively streets with a lot of hustle and bustle. For example, see traditional dances, impressive saber fighters, melodic street musicians and wonderfully decorated camels and elephants at the Hindu festival "Hartalika Teej" in September.