Bristol, a city in the southwest of England on the River Avon, presents itself as an open place for visitors and has a lot to offer, especially for young people. As a university city, many students live in the city of 430,000 inhabitants, who have a great influence on the culture and leisure activities. In addition to many different sights, many of which also tell of historical events, there is a wide range of clubs and bars. This makes Bristol a thriving place that is particularly attractive to teenagers and young adults.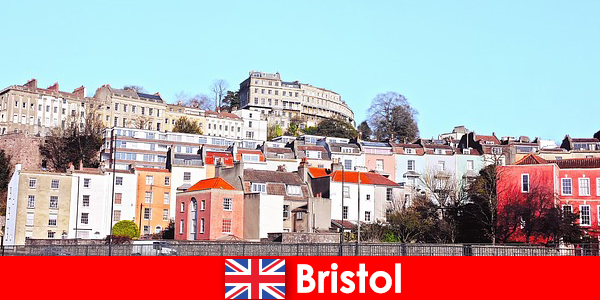 The atmosphere of Bristol
Bristol is located on the Avon River and is surrounded by beautiful green landscape, which not only creates a change from city life, but also allows a fantastic view of the place from the various viewpoints. The Clifton Suspension Bridge is definitely a must-see. The bridge runs over the Avon and can also be easily crossed on foot or by bike. In addition, from the Clifton Observatory it is possible to look at the bridge with its impressive location and photos and video recordings are definitely worth it.
Places where locals and visitors come together are for example St. Nicholas Market. In addition to various items of clothing and souvenirs, also for the small budget, various snacks can be found. Basically, the city is full of lovely little cafes and restaurants. In these you can try a wide variety of delicacies in addition to the hospitality. In addition to more classic English restaurants for an afternoon tea, there are also coffee specialties and locations that have something on offer for every taste. Accordingly, it is also easy as a vegan or vegetarian to find and discover breakfast cafés or restaurants for dinner.
In addition to the small shops and boutiques in the city center, there is also the Cabot Circus shopping center. With over 140 shops, the mall has a wide range of options for shopping enthusiasts. In addition to designer shops and international brands, everything from fast food to delicatessen can be found on the food court. It is certainly ni-cer to explore the city through its streets, but should a day of shopping be planned, the mall is the perfect place. The streets and alleys are always well-frequented and create a young dynamic atmosphere that motivates further exploration of the city.
Banksy`s Street Art
A great specialty of the city is its street art. Graffiti art is everywhere in the streets and some of it is also by the artist Banksy. No other city in England can boast as many works by him. Accordingly, it is not surprising that a banksy tour is also offered. With this one walks through the various works of art and thus explores the city in a modern cultural way. This is a clear contrast to some monuments and statues from colonial England. The range of cultural approaches and historical and modern sights is therefore remarkable. Various museums for young and old as well as the zoo make it clear how diverse the leisure activities in the city are. It is therefore worthwhile to stay longer to really visit everything and really absorb the spirit of the place.
Bars, festivals and clubs
As a university city with its many students, the place offers numerous pubs, bars and clubs that attract this young audience. Especially in the warm seasons, the streets are full of people and public parks and squares offer the chance to meet other travelers and locals. Bar hopping is also popular, and pub crawls are also a great option. The latter are offered directly by some hostels. This is a quick and easy way to meet new people and explore the city at night. The Harbor Festival in mid-July on the Harbor Side is an annual highlight. Numerous artists * come together here for music and performances. There are also different food stands and a wide range of events.